What a delectable treat for eggnog lovers everywhere! These cookies have a wonderful spicy aroma and are great tasting. The fragrance of nutmeg and cinnamon will infuse your home with holiday spirit as you bake these cookies. They make delicious gifts and are a welcome addition to cookie exchanges. The inspiration came from
Cookie Madness
but again no camera was available except the blackberry and we all the know that story...
I decreased the nutmeg in the recipe and also used used the icing recipe below. I had several requests for these at work and my brother even took them for his office holiday potluck!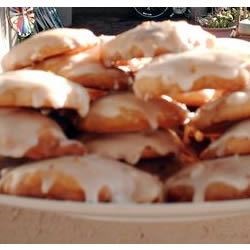 Courtesy of CJ at AllRecipes
Mrs. Field's Eggnog Cookies
1 1/4 cups white sugar
3/4 cup butter, softened
1/2 cup eggnog
1 tsp vanilla extract
2 egg yolks
1/2 tsp ground nutmeg
2 1/4 cup all-purpose flour
1 tsp baking powder
1/2 tsp ground cinnamon
Preheat oven to 300*F. Combine flour, baking powder, cinnamon and nutmeg. Cream sugar and butter until light. Add eggnog, vanilla, and egg yolks; beat at medium speed with mixer until smooth. Add flour mixture and beat at low speed until just combined. Do not overmix.
Drop by teaspoonfuls onto ungreased cookie sheet 1 inch apart. Sprinkle lightly with nutmeg or skip this step and sprinkle on the nutmeg after you ice the cookies. Bake for 23-25 minutes or until bottoms turn light brown.
Transfer to cool, flat surface immediately with spatula.
Eggnog Icing
1-1/2 C. confectioners' sugar
3 Tbsp eggnog (use as much as you need)
In small mixer bowl, beat confectioners' sugar and eggnog until icing is smooth. Pour in ziplock bag and cut the tip off a corner and drizzle over cookies.